Pioneers in Urban Farming
We were one of the first urban farmers in NYC over 35 years ago. Today, large corporations have followed our lead in the sustainability of indoor farming.
Locally Grown

Only an hour outside NYC in Goshen, NY.

Locally grown food is the most sustainable and economical solution to today's largest environmental and malnutrition issues.
Family Owned
Not some huge corporation. We run as a small family company to maintain our quality, service and vision. We support Mom & Pop local stores!
Soil Grown & Organic
We grow all of our greens in our organic compost mix, high in minerals, nutrients and beneficial live microbes. We believe rich soil is essential for an optimally healthy plant, as nature intended.

We Grow the Perfect Foods!
We have been growing and distributing fresh and organic wheatgrass & microgreens since 1982 (before it was cool)

.

Harley Matsil began his backyard business in Brooklyn when there was not a blade of wheatgrass to be found in New York City. His friend Jack was a hippy who told him about the wheatgrass craze in California and Harley was a business man. The two friends dreamed of regenerating the health of the city by supplying New Yorkers with fresh green superfood.





Today, Harley and his family - Alyse, Aaron, & Rebecca - and their whole staff, grow their products in the black dirt region of Goshen, NY and deliver their fresh superfoods to over 450 juice bars, health foods stores, supermarkets and private homes in the Tri-State region.
Food is medicine and fresh superfoods are best.
We believe these are earth's most "Perfect Foods" and our goal is to grow the highest quality fresh superfoods and deliver them to heal the masses. We believe the body, given proper nutrition, can heal itself. There are thousands of health food products, powders, bottles and pills on the shelf that are increasingly confusing to the consumer and we want to make it simple, fresh superfoods are best.  As well, the best possible foods for your health are green leafy vegetables.  Of  green leafy vegetables, young greens are even healthier, and that's exactly what Wheatgrass & Micrgrogreens are.
Our goal is to provide these "Perfect Foods" by growing the highest quality available, delivering them, and educating about their incredible healing qualities. Thousands of people have used our products and shared their amazing experiences with us.
In the years to come, we hope to continue to be able to share these amazing foods while our society slowly becomes more conscious of the values of plant-based nutrition for health, local agriculture, and sustainability.
How We Got Started Growing Grass...
Harley and his friend Jack looked in the phone book for the first 3 health food stores they could find to ask them if they were interested in wheatgrass. All 3 were thrilled and said yes right away – They were in business! 
Of course things are never that simple.  It was an uphill battle to get people onboard with drinking this "green stuff", but Harley and the team never quit.  They knew the power of wheatgrass and the lives they were helping by providing it.  So they created a home delivery service, and eventually as demand grew, health food stores through NYC began serving fresh wheatgrass juice at their juice bars.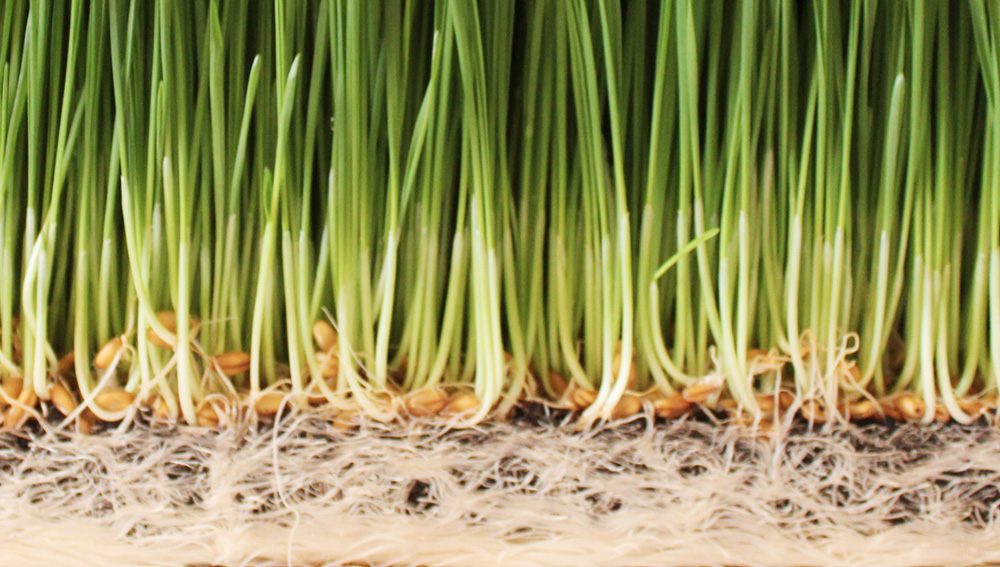 Quality, Quality, Quality!
We don't cut corners when it comes to quality. Our indoor growing facility operates year-round to bring you the freshest possible products. We use rich composted soil, full-spectrum lighting, and filtered water to guarantee the greenest, healthiest wheatgrass and microgreens in the world.  Everything we grow is USDA certified organic.