Spring Cleansing Sale
It's that time of the year when you need to get back on your health game and get ready for summer. Our 2-Week Power Cleanse will help boost your metabolism, increase energy, and eliminate toxins. The best part is that it's on sale for only $60.00 + FREE DELIVERY (40% OFF!) through March 31st.
2-Week Power Cleanse
The cleanse includes 30 1 ounce shots of frozen wheatgrass juice, an easy to follow 2-week plan, and fun smoothie recipes.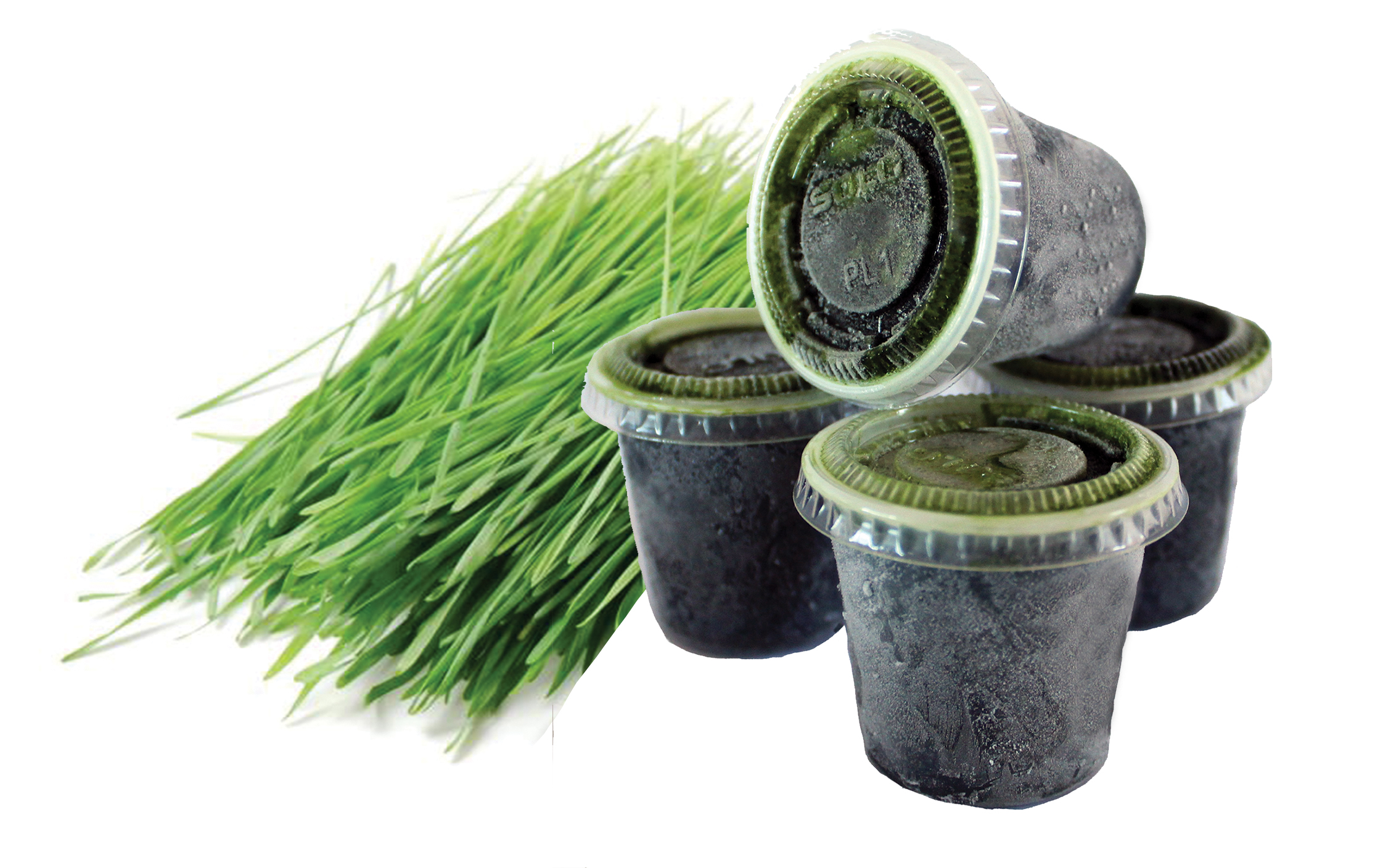 What is Wheatgrass?
Wheatgrass is a superfood full of vitamins, minerals,
live enzymes, antioxidants, amino acids, & chlorophyll.
Frozen wheatgrass juice retains about 80%
of these live nutrients.
1 shot = 2.5 lbs of green veggies
It has been known to boost the immune system, normalize
blood pressure & sugar, increase workouts, reduce cravings, optimize brain function, help prevent & fight off cancer, aid in digestion,
and create healthy hair, skin, & nails.
Why Choose Wheatgrass?
Wheatgrass is a known for it's healing qualities. High amounts of fresh chlorophyll brings oxygen into the blood, fights off free radicals, and removes toxins from the body.
There are numerous testimonials about wheatgrass helping with everything from high blood pressure and diabetes to fatigue and anemia, as well as aiding in treating cancer.
Can it Be Bottled?
Cold-pressed juice cleanses have recently become the go-to detox method. However, most people don't know that fresh juice loses most of its nutrients within 15 minutes of juicing. Which is why we recommend drinking wheatgrass juice within minutes of juicing.
If you don't have access to fresh wheatgrass juice, the second best option is frozen because most of the nutrients will be preserved for up to 6 months. Frozen wheatgrass juice is also convenient and easy to defrost and add to smoothies.
How to Order Your Cleanse
Contact us to see if you are eligible for this promotion. We deliver to most areas within NYC, Long Island, Westchester, Northern New Jersey, and Orange County. *Because the product is frozen and perishable, it needs to be signed for upon delivery.
Email: [email protected]
Call: (845) 651-2012
Text: (347) 796-1531

---
For more information about wheatgrass visit 800wheatgrass.com
or pledge to take The Green Shot Challenge in a participating store near you. Learn more at greenshotchallenge.com
Quick Links
Everything You Need To Know About Wheatgrass
Find Fresh Wheatgrass Near You