We  are experts on all industrial juicing.
We were consultants for Jus by Julie, Organic Avenue, Juice Press, Liquiteria etc.
Contact us and we can help you solve your juicing or juicer problems.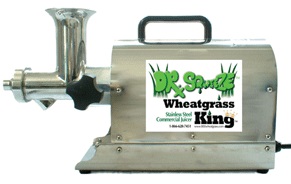 Our designed and manufactured Wheatgrass King Juicer is the juicer of choice among industrial wheatgrass juicers. It has a combination of speed, efficiency and durability. It is not designed for continuous use it gets hot but you can get 2 or 3 of them.