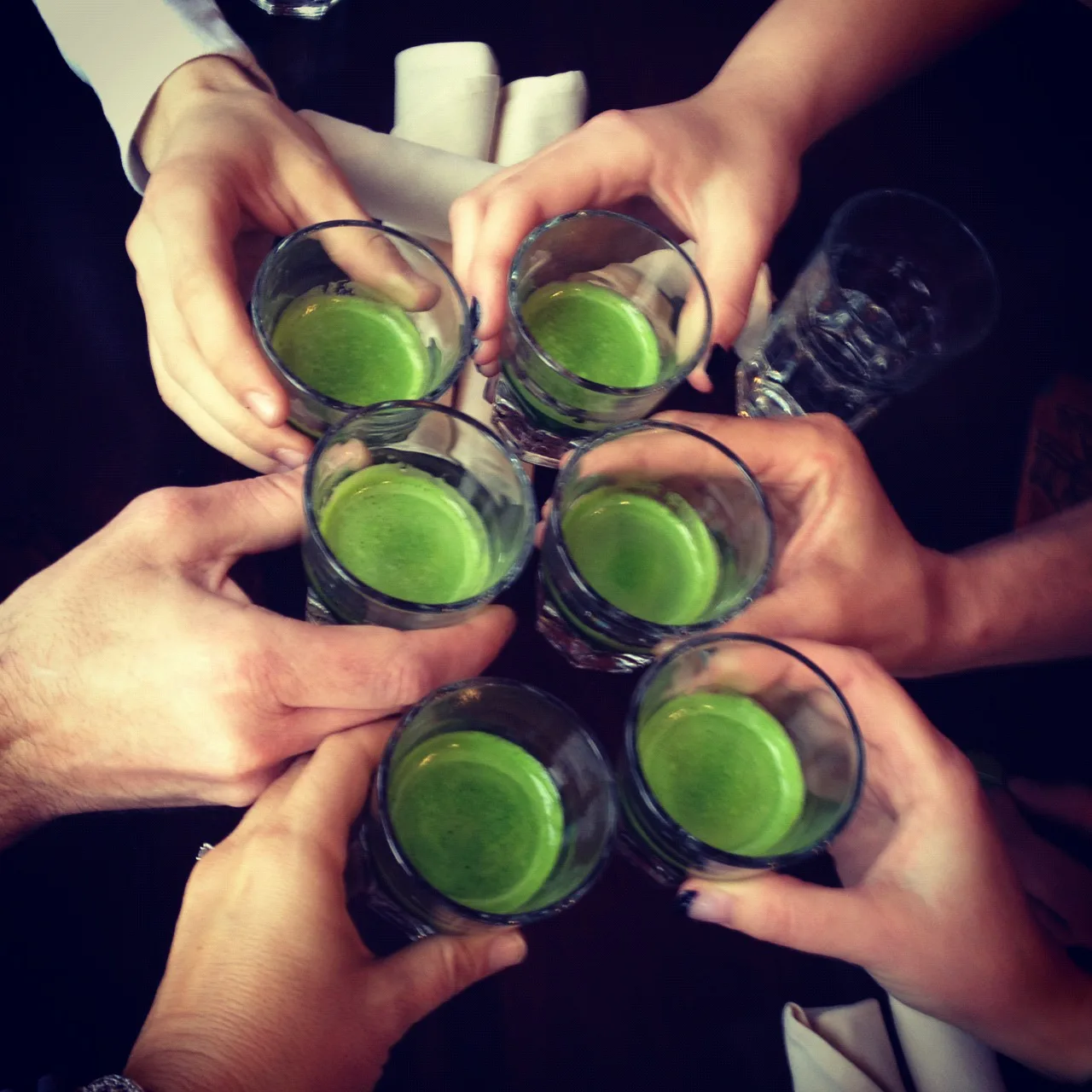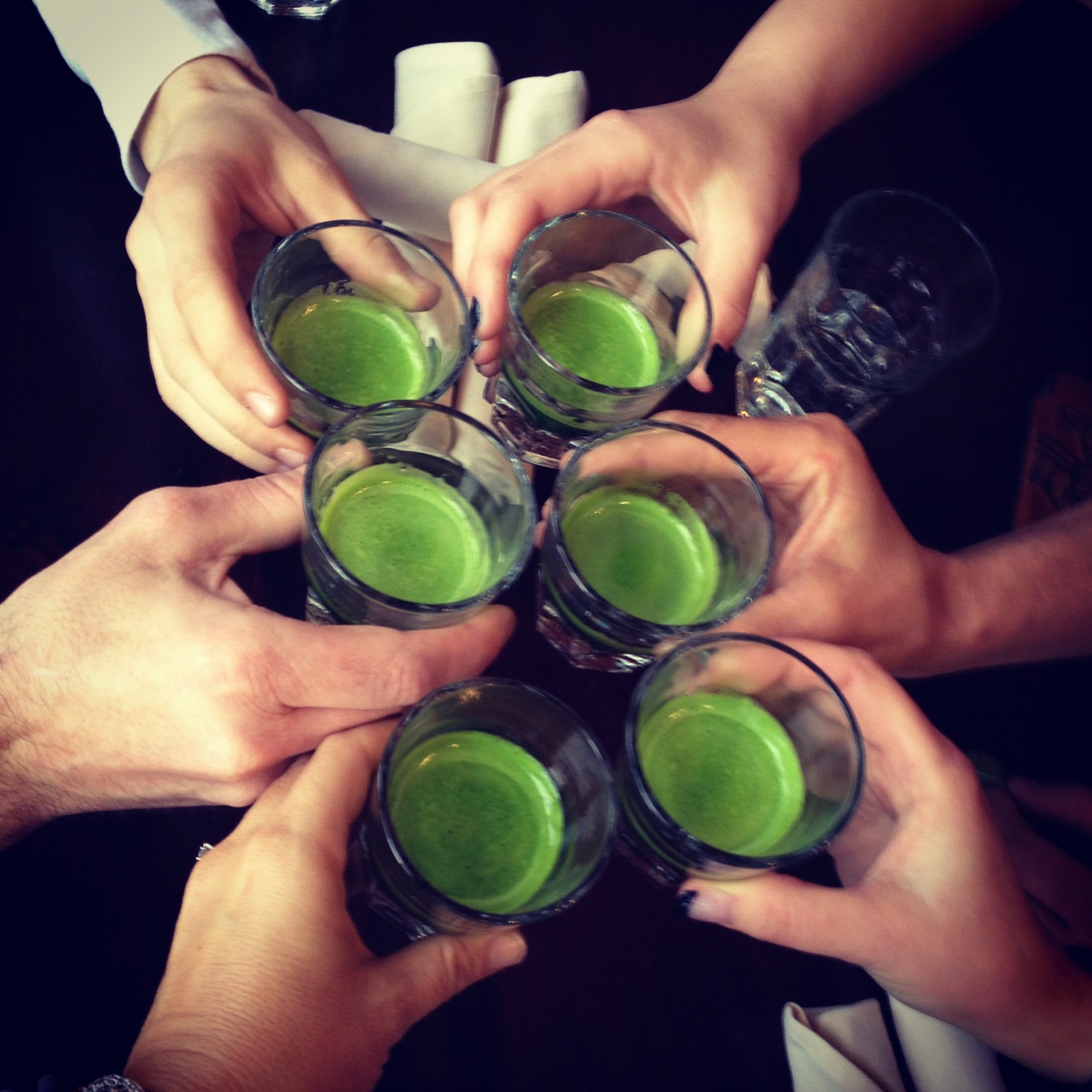 WHEATGRASS PARTY: For all NY vegans and juice lovers
who are ready to switch it up and dance with green shots instead of tequila this time, join us at the NYC Veg Food Fest: Wheatgrass Party for music, wheatgrass pong, green LED lights, and SHOTS! Times are changing and sober really is the new drunk. Vegan, juicing, health conscious and life-chasing millennials are not satisfied with meaningless girl fights and the morning hang overs that come with the drinking culture. They are looking for something more meaningful and positive in their lives and green seems to be the trend. Perfect Foods wants to show you how The Green Shot™ (Perfect Foods Wheatgrass) can be the most empowering and fun shot out there that motivates you to be the better you. Isn't that what we have all been looking for?
Music, dancing, wheatgrass pong
green LED lights, boot camp contests, unique photobooth, and, of course, SHOTS, this Wheatgrass Party won't be a disappointment. Learn the benefits of wheatgrass while having fun with friends and getting #wheatgrasswasted on The Green Shot ™. Come for a life changing experience of health and fun that you won't regret. Just as much fun but instead of a hangover your body will have enough energy to run a marathon. This party will take place in a room at the NYC Veg Food Fest with other inspiring vegan friendly vendors. Join the wheatgrass party and take a shot, The Green Shot ™.
The Wheatgrass Party will be at the NYC VEG FOOD FEST
May 7-8th 2016 ; 11-6 pm
Metropolitan Pavilion 125 W 18th St
Buy tickets: nycvegfoodfest.com
More info: 800-WHEATGRASS
Schedule:
11-12 : PHOTOBOOTH FUN! Memories with Friends: Photo-Shoots with Wheatgrass Backdrop and Props
12-1: Wheatgrass Pong Tournament
1-2: Bootcamp
2-3: Flip Cup Tournament
3-4: Fitness Contests and Info on Wheatgrass Games
4:30-6: PARTY! Lights down, music up, games, dancing, limbo, pictures, SHOTS.
The Green Shot ™ Challenge
The Green Shot Challenge is about making a positive change in your whole life, not just your physical health.
Perfect Foods is a leading figure in the health food industry and is dedicated to creating a healthier and happier NYC by starting you.
"I can't make a better world until I am willing to make a better me."
It is about putting the work in to being the better you in every aspect of your life: mind, body and soul. Choose one aspect of yourself or your life that you would like to improve then focus on that aspect for 14 days. Take The Green Shot ™ every morning at your local juice bar, supplied by Perfect Foods, as nourishment for your body. Let that shot each day help you focus on that improvement in your life to then nourish your mind and soul. Post a picture on instagram of The Green Shot ™ . Let that post and that moment be your motivation to be the better you that you've always wanted to be.
Let The Green Shot ™ be your #GreenMeMoment.
Happiness isn't just about your mind, body or soul but it is about nourishing all three.
Nourish your body with The Green Shot and nourish your mind and soul with a positive goal to a better you. You're already putting the best possible thing you can in your body, why not take it one step farther and improve one other aspect of your life. It won't stop there. Once you have that positive momentum you will see your life improve dramatically. You have the power to take control and you can be the better you that you want to be. Perfect Foods is just here to support you.
The Green Shot is not a quick fix to health and happiness
but rather a commitment to yourself and the utmost respect for your body. This is not RedBull energy, VitaminWater, 5-Hour Energy, Whey, pills, powders or any of that "sh*t". This is Real. The Green Shot is 100% wheatgrass, no sugar or caffeine added and just one ounce is equivalent to 2.5 lb of green vegetables. It is the energy shot that you need to get you through the day but with out all the sh*t in it. Take on the challenge and not only will you inspire yourself but you will inspire your loved ones around you to better themselves.
Join us in The Green Shot ™ Challenge and be the better you (plus get a FREE T-Shirt at the Wheatgrass Party!)
So, the time has finally come. NYC is ready for the first ever wheatgrass party and you don't want to miss it.
Buy tickets: nycvegfoodfest.com
More info: 800-WHEATGRASS