All the pasta but without the guilt? Yes, please! Not only is this recipe guilt and gluten free, but it's so nutritious that it can become one of your go-to's!
We're taking bland zucchini and turning it into a lick-the-plate-clean type of good dish. We're spiralizing a zucchini into beautiful curly zoodles and dress them with a creamy spicy pesto. As much as we love Nona's pesto, this will have nearly every Italian running for their money. Take your raw vegan meals to the next level with this nutrient dense dish. Surprise not only yourself with how easy this is to make, but surprise your guests that it's an all vegan dish too!
Take away the unhealthy fatty oils, dense pasta carbs, and add in one of the world's wonders – microgreens.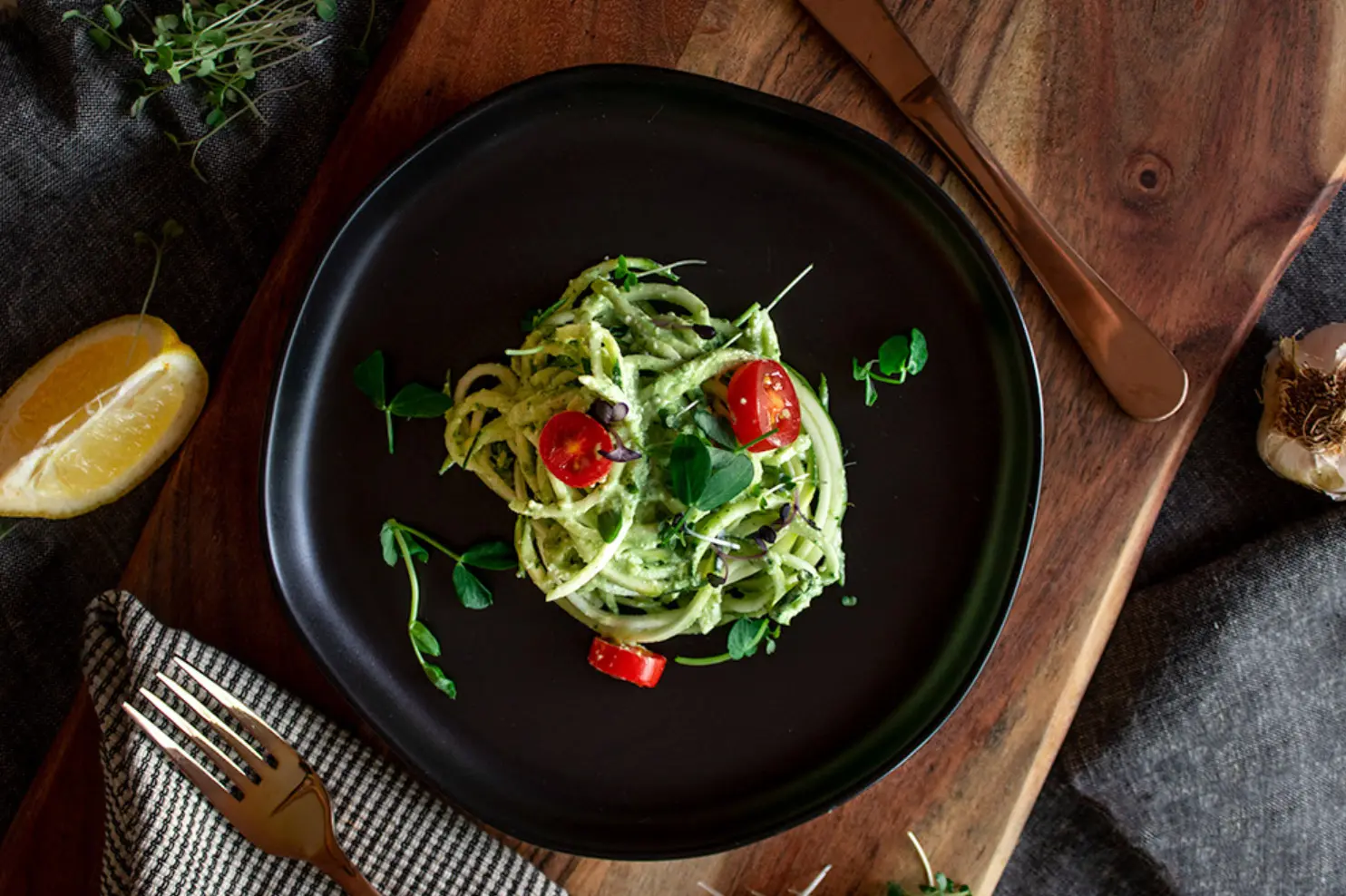 Pea Microgreens: just like all of our microgreens, they're organic and packed with nutrients including chlorophyll, vitamins, minerals, and enzymes. But, the pea microgreens hold a very sweet flavor to them. Using these with this recipe helps tone down the spice of the garlic.
*Color Mix Microgreens: though this is used as a garnish, don't be fooled, these little guys add a super punch of flavor and nutrients to this dish. The cilantro and radish microgreens in this mix hold an important role in rounding out the finishing flavor. They have plenty of enzymes as well as chlorophyll, vitamins, and minerals. But our favorite part about them are their spice and complexity. One leaf holds the flavor of one whole radish or whole bunch of cilantro.
Raw Cashews: Cashew nut oil is rich in selenium, zinc, magnesium, iron, and phosphorous. Additionally, they're high in phytochemicals, proteins, and antioxidants. We chose to use cashews rather than any other nut for these reasons, not to mention, once they've been soaked they become even softer and make a great base for our pesto!
*Nutritional Yeast: Not only does nutritional yeast add that "parmesan flavor" to this dish, but it also adds extra protein, vitamins, minerals and antioxidants.
Garlic: when adding garlic to this recipe, we sometime add a few extra cloves. Why? Garlic is high in manganese, vitamin B6, vitamin C, selenium, fiber, and so much more. But, mostly for the flavor. For us, it's a win-win.
* optional
Save this recipe by pinning it to your Pinterest board so you'll never lose it! Comment below after you've tried the dish to let us know what you think!